Specializing in Antique Radio Repair
AM & FM
Transistor Radio Repair
Tube and Transistor Radios for Sale
Turn around Time 6 - 8 Weeks Average
AM Car Radios
Free Estimates
Replacement of the first 5 signal capacitors are free!
Located in Dayton, Ohio
---
Please Read!!!!!!!
I have injured myself by falling off a ladder while painting. Yes I broke a rib and it is preventing me from picking up anything heavy. Doctors say that it will take 6 -8 weeks to heal. Meanwhile, I can only accept table model tube or transistor radios for repair.
If you would like me to place your request into a holding file, please send me a repair request (make/Model) and I will notify you when I am ready. I am so sorry for any delay. 06/23/2016
---
Are you frustrated because you cannot find out how much it will cost to repair your radio?????
Look no more!!!!
For Pricing please see the "Tube and Transistor" repair pages to the left.
To send in your radio, see the "Send In your Radio" page to the left.
---
Typical Repair Cost:
5 or 6 Tube Radios - $220.00 - $275 plus shippping.
7 or 8 Tube Radios - $300 - $395
Pre-1935 radios - $350 to $450.00 plus shipping
Transistor Radios - $75.00 Flat Rate
Transistor Car Radio's - $45.00/Hour - 2 Hour Minimum
Tube Car Radio's - see "Tube Radio Repair " page to the left.
Transistor Multiband Radios -$45.00/Hour - 2 Hour Minimum
CAUTION: Do not plug in your radio if it has been sitting in the garage for the past ten years! You could get a shock and maybe damage your radio.
Note: The worse thing you can do to any antique tube or transistor radio is to not play it! They are full of mechanical switches and contacts that need to be operated. The radio will not last longer if not used. Just the opposite. So play and enjoy your refurbished radio.
Now accepting Visa, Master Card, American Express and Discover!
---
Bluetooth?
Want to stream music to your Antique Radio from your Smartphone, iPod or MP3 Player?
Go to EBay or Amazon and search for a "Bluetooth Music Receiver". This can be connected to the Phono input of your radio (if it has one) or I can install a 3.5mm connector for $45 in most cases.
The example unit below shows that it has the cables to connect to the 3.5mm installed connector or to the Phono input of your radio. If connecting to the Phono input, and you only have one Phono input, you will need the "stereo to mono" adapter (also shown below).
Notice the male connector coming from the unit in the hand. Make sure your device connector looks the same and also has the cables to connect to the phono input if needed.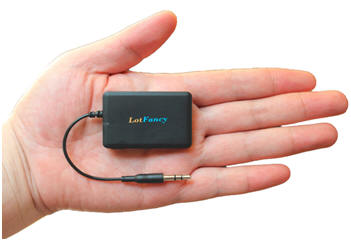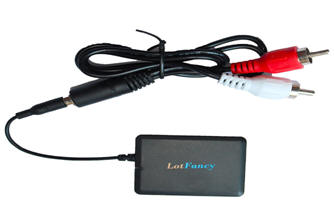 Stereo to mono Phono adapter
---
More exanples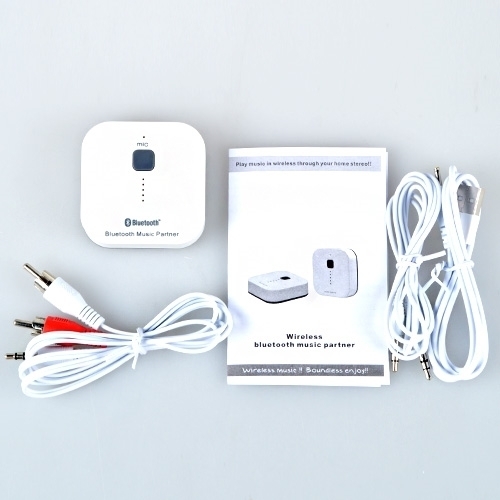 Above 2 units have internal batteries that are charged by your computer.
Here is how it works? When you connect the "Bluetooth Music Receiver" to the 3.5mm connector on your radio that I installed, your smartphones Bluetooth will connect (wirelessly) to the "Bluetooth Music Receiver". Then you can play your music, Pandora, Itunes, etc, through your radio. The device connected to the radio (Smartphone, IPod, MP3 player, etc.) will control the volume of the music. Above Unit also comes with a cable (white with 3.5mm connectors on each end), where you can connect your device directly from its ear phone jack to the installed 3.5mm connector on the radio.
Please note: It will not be possible to safely install the 3.5mm connector into radios designed without a power transformer, unless it already has a phono input connector. These are usually radios manufactured in the 50's. I will let you know if your radio can have this upgrade.
Previous customers who have had the 3.5mm connector installed. If you do not have a lot of volume, please contact me. I have found another way to connect this to your radio that will give you plenty of volume. I will correct your installation for free.
---
FM Radios
Those of you looking for a good antique radio with FM, try looking at the German radios manufactured in the 50s -60's. Below are some examples. Some names of manufactures are Telefunken, Nordmende, Graetz, Saba and Grundig. I know I have left out some manufactures, but you get the idea. These radios have great reception and wonderful sound. American radios with FM before 1960 are terrible. These German radios have AM, FM Shortwave and usually a phono input for Bluetooth.
Designed using Microsoft Expression Web 4
---
---
---